Vendor Review - Pretty Polka Dots
Arizona Wedding Vendor Review - Baker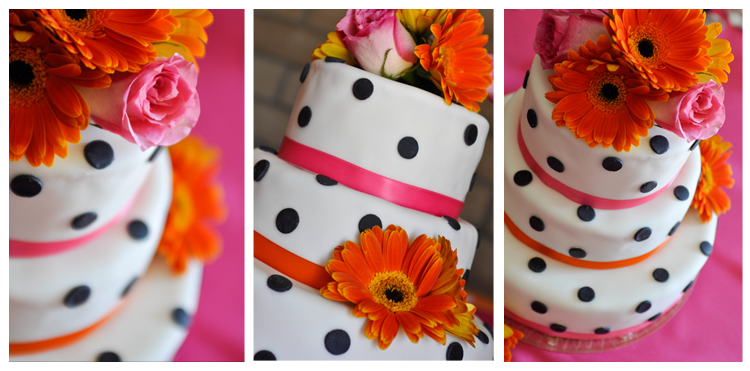 Our lastest wedding featured this darling cake created by Jackie Austin.  I had the opportunity to interview Jackie about her training and methods.
How long have you been making cakes?

- About 10 years

How were you trained? how did you learn?
- I took a few classes as a teenager and then taught myself new techniques along the way.

What types of cakes do you make? layers? fillings?
- All my cakes and fillings are made from scratch. I have a few favorites that I use frequently, but for the most part I will work with the customer if they have specific flavors in mind. 

Fondue or frosting? Pros and cons for each?
- I prefer to work with fondant. It looks beautiful and there is SO much you can do with it. 

- That completely depends on the amount of guests and how much detail will be on the cake.

Advice of freezing cake for the anniversary?
- Pre-freeze the cake uncovered for approx 2 hours (to allow the frosting to harden)
- Take the cake out of the freezer and wrap in 3 layers of plastic wrap
- Place inside a ziploc bag and remove as much air as possible
- Return cake to cake box and wrap the entire box in plastic wrap
- Remove from freezer and allow 48 hours to thaw in refrigerator before eating
How do you find inspiration or do you duplicate photos from brides or more of a collaboration?
- I first like to get an idea of what the customer wants: flowers, colors, shapes, etc. If they have pictures that helps me get a visual. We can then build on that idea and work out the specifics.
I have the privilege of knowing Jackie personally, beyond the professional vendor capacity.  She is a joy to know.  If you are looking for a baker or need a cake you are welcome to contact us at Tender Look Photography.  Jackie is putting together a portfolio of her created cakes.  In the near future we plan to display those photos here along with additional information.  In the meantime you are welcome to contact her directly at This e-mail address is being protected from spambots. You need JavaScript enabled to view it .